In this article, we investigate QR codes, the mysteries behind them, how they are used as a payment method, and how they can be useful to your business.
What are QR Codes?
QR codes – Or Quick Response Codes, are a 2D Matrix barcode, which in layman's terms, means a barcode that can be scanned using a barcode scanner or mobile phone camera that holds substantially more information than a generic barcode.
If you have ventured out during the current Covid-19 pandemic, then you have probably come across a QR code. The government have been utilising it for their track and trace system which has given the once thought to be outdated QR codes a new lease of life. However, there is a lot more to QR codes than meets the eye. They can be utilised in ways far greater than a simple information collection tool, and during these strange times, the QR code has become even more important.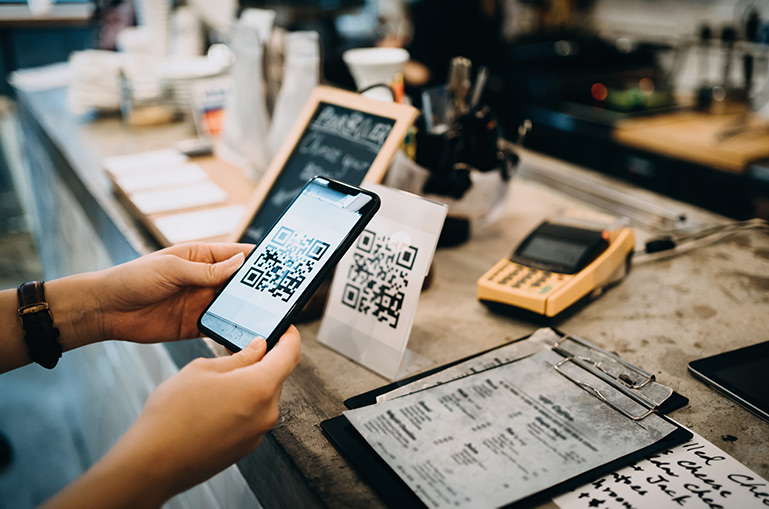 How do QR Codes work for payments?
There are three main types of QR code payment facilities.
Static – Merchant has a single code for everything – Customer inputs amount – Verified by Merchant.
Dynamic – Can be edited – Merchant inputs amount – Verified by customer.
Temporary – A one-off code that will be forgotten once used.
Static
Your business provides a singular code that a customer can then scan, input the amount they have spent, and send it. This is especially useful for restaurants and such, as the customer can scan a code on a table, which will automatically show the customer a menu, and informs the restaurant of which table you are sitting at. Therefore, the customer can choose and pay for all the items they want without ever having to leave their seat. This creates a safer environment for both the customer and the staff as considerably less contact is made. It instantly removes the requirement to be seen by a waitress until your order is delivered and also means that there will be no queuing when you want to pay, creating a more streamlined experience for the visitor.
Another option for static QR codes is charity donations. Have you ever been to an event or seen someone collecting money for your favourite charity, only to find yourself short of change? A static QR code can save you from losing potential donations and enables you to take them using nothing but a phone. Simply set up a QR code on your collection bucket, the potential customer can scan it and type in the amount they wish to donate (or if you want to make life even easier, create a drop-down for a selection of donation amounts).
Dynamic
The dynamic QR code gives more control to the merchant by allowing them to input the amount that the customer has to pay. Once the merchant inputs the amount the customer can scan and accept the amount that has been added. Everything can be done from a phone, so no need to worry about always carrying your cards, wallet or purse.
Temporary
A temporary QR code can usually be found on the bottom of a till generated receipt. The code is created once the customer has completed their shopping and a receipt is produced. The customer can then scan the receipt and agree with the amount on their phone. On completion of the payment, the code is no longer in use.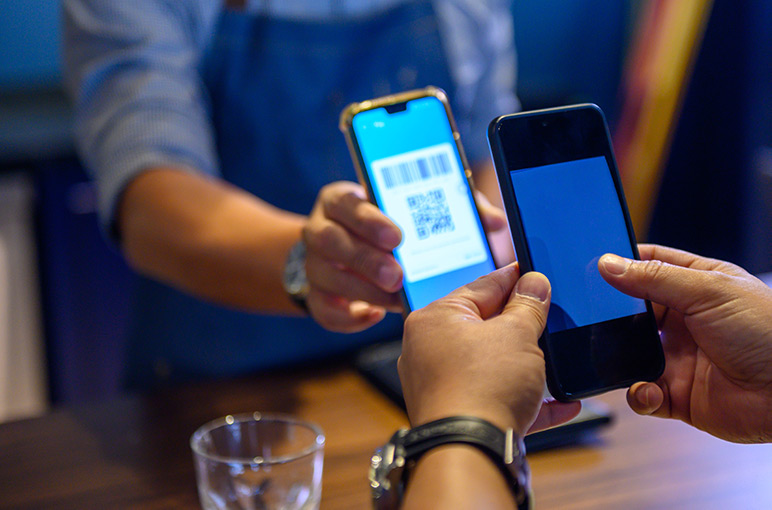 Who Uses QR Codes for Payments
A considerable number of businesses are starting to use QR codes for a more seamless way of receiving payments. As mentioned previously, restaurants have grasped the concept rapidly, realising how much safer and socially distanced they can be while not diminishing their customer experience.
In China, around 80% of businesses now accept QR payments, which have even managed to find their way onto vending machines as a standard way to pay for your snacks. Paypal has been one of the leaders in accepting QR payments and even Apple pay have been rumoured to have embedded code in their latest updates to allow for QR transactions.
With the ability to take payments from a distance and with no contact, many businesses are now relying on QR payments to enable safer measures to be put in place during the Covid-19 pandemic, which in turn will make their customers feel safe and greatly reduce the possibilities of cross-contamination from card machines or the exchange of cash.
What Happens When you Make a QR Code Payment
Once you set up your information either on a businesses app or a platform such as MobiCash, the process is simple. Having linked a payment method to the Mobicash App, when you scan the QR code and verify the payment, a normal transaction happens seamlessly in the background, debiting your chosen payment method and crediting the merchant's account. All information passed is encrypted and if the customer doesn't have the funds or there is a problem with their account, the transaction will simply fail. So no need to worry about transactions being declined a few days after the process has already ended. It's safe, simple, and super fast.

How Can MobiCash from RSM 2000 help normalise QR Payments?
MobiCash has been created with one thing in mind. To make life easier.
Want to learn more?
The MobiCash app provides a new physically distanced way of collecting payments and donations at events, online or in-store. Anything can become a payment point from marketing materials to your website, shop windows and our ready-to-use mobile app
A wide variety of payment and security options including biometric identification
A homepage tailored to your business or charity; personalise your space in the app to showcase your organisation and detail how payments can be made
A service that helps reduce the costs and risks associated with cash handling
Valuable insights into where your payments/donations come from
An online portal that provides a universal overview of your MobiCash activity, lets you generate QR codes and more
For charities, an opportunity to include Gift Aid with each donation made
A mobile marketplace platform to start selling your merchandise via the in-app mobile store
Bespoke advertising packages to ensure visibility and help you attract new donors /customers, or, announce fundraising events or product campaigns
Affiliate tracking
An in-app event tool with a lot of exciting features that can help you manage your events
Scan the QR Code to download the MobiCash App.
QR Code Payment FAQ's
How is paying with a QR different to NFC?
Easy really, NFC requires you to be close to a payment terminal, QR code payments can be taken at almost any distance as long as your phone camera can scan the code. No Contact required.
How safe is it to use MobiCash?
Very. We have everything from Biometric scanning all the way through to a simple PIN to keep you safe. Bank details are not stored on your mobile phone but are held in a secure server in a certified data centre.
There is a lot more detailed information on how we keep you safe here.
Can I have more than one card linked to my MobiCash app?
Absolutely! We also accept debit/credit/corporate and prepaid cards.
Do merchants see my financial information?
No. A simple bank transfer is created but no card information is transferred.