Although card payments have been a primary payment method for a little while now, it's only in recent years that it's become crucial to know how to set up card payments for small businesses. Of course, the Covid-19 pandemic accelerated this requirement somewhat due to a combination of hygiene concerns of exchanging cash and the convenience of using a card (for both businesses and customers).
However, the continual and astounding advances in technology have not only made the cashless society a conversation worth having, but it's now looking like an inevitability. So, if you're a new or current business owner in need of advice and guidance for setting up card payments, you're in luck! Read on to find out how to set up card payments for small businesses.
Do You Need Card Payments for Small Businesses?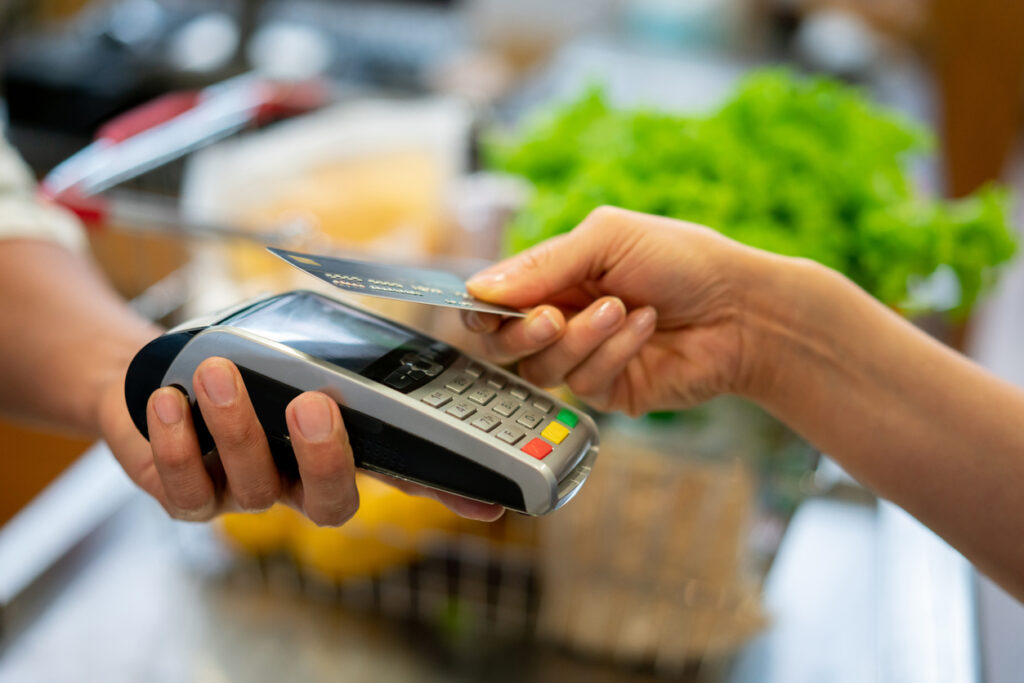 Cash is no longer king, well, almost! According to the UK Finance's 2020 records, cash transactions dropped by a whopping 35% last year. As we mentioned, this was most definitely influenced by the pandemic, but it's been a sign of the times for a while. This means that the need to implement card payments into the daily operations is paramount, and fortunately, there are several ways to do so — but we'll get to that later!
Let's first talk about why businesses need card payments to be successful in today's market.
Encourage impulse purchases: Everyone is guilty of an impulse buy. Humans are impulsive folk, including your potential customers. A payment terminal for small businesses provides customers with a quick and easy way to pay for goods or services. The speed and ease of doing so naturally encourage people to buy there and then. With less time to think, it increases your chances of making the sale.
Improved bookkeeping and monitoring spending: From an admin point of view, card payments are a godsend for businesses. A digital record of purchases makes bookkeeping a much less challenging and stressful task, not to mention the benefit of improved cash flow thanks to more efficient monitoring of ingoings and outgoings. Also, having such a clear view of financial transactions is hugely beneficial for analysing customer spending patterns and tweaking your business to suit their needs.
Increased security: Another crucial benefit of card payments is the increased security of not having as much cash on site. This could encourage theft or fraudulent activities, both of which take a severe toll on businesses every day.
Better service and recognition: Card payments are incredibly convenient and will be appreciated by your customers. Something as simple as this can encourage more positive responses from customers and make them more appreciative of the service you offer. This is fantastic news for your brand, your reputation and your chances of establishing a loyal customer base that grows every day.
How to Set Up Card Payments for Small Businesses?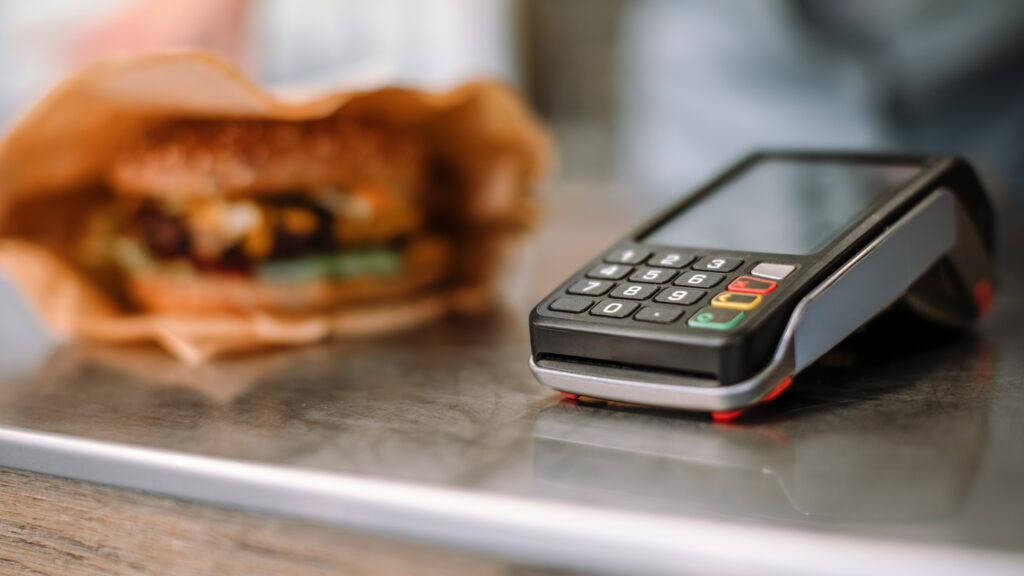 Work with a Payment Services Provider
Once you have analysed your business's needs regarding card payments, such as the number of transactions you receive via card and the methods you hope to receive them, your next step is knowing how to set up card payments for small businesses. The first step is seeking the services of a payments services provider. A PSP is a financial specialist who offers a wide range of payment services designed to suit the many needs of businesses, such as card payments.
When choosing a PSP to work with, it's vital to discuss your requirements with their team to find out if their services can help you, accommodate your card payment needs, and discuss aspects such as card payment charges and fraud protection. For example, PSP's offer card payment solutions for online payments via your website, contactless POS payment terminals for small businesses, and accepting payments over the phone.
Simply put, a payment service provider will give your business everything required, including pre-configured card terminals, to set up card payments. And offer dedicated and full support to ensure that any issues you have are handled quickly and efficiently.
Set Up a Merchant's Account
After finding a payment services provider you are happy with, create a merchant's account with them. This is a separate business account that enables you to accept card payments. Even if you already use payment methods such as PayPal, you still require a merchant's account.
This process requires you to provide your PSP with essential information about your business and establish a connection to your business bank account, where money from card payments will be deposited.
Choose Your Card Payment Method(s)
The final step of knowing how to set up card payments for small businesses is to get the terminals required to accept payments and distribute them throughout your business. For physical stores, this involves setting up a payment terminal for small businesses, such as a POS card reader. Your PSP will likely have specific brands or models they use, all of which allow you to accept card payments via chip and pin and/or contactless.
If you are an eCommerce business and want to accept card payments online, you'll need your PSP to set up online payments, which can be implemented into your company website or third party sales portal. Don't worry; your PSP's team will have the knowledge and technical expertise to help you with this. If you want to accept card payments over the phone, PSP's offer this service too! To be safe, we'll cover all the bases below.
Card Payments for Small Business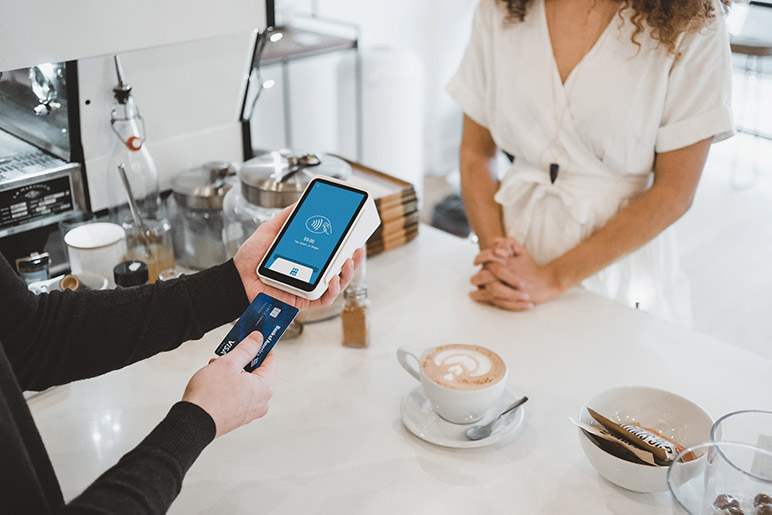 In-person card payments
In-person card processing is a brilliant tool for businesses of all types, from brick and mortar stores to on-site service individuals such as plumbers to mobile merchants (food trucks, event vendors, etc.).
Transactions such as these involve customers using their card to purchase, either using a contactless terminal or via chip and pin. For businesses, cardholders offer a wide range of benefits, as we mentioned above. Plus, card payments are the go-to payment method for modern consumers. Therefore a payment terminal for small businesses increases your chance of making a sale.
Online card payments
Whether you're an online-only business, a business creating an eCommerce site, or someone who accepts orders online — you'll require online card processing. To do so, you'll need a digital store (website or third party eCommerce store and a payment gateway. Your PSP will offer all the information required to set this up. Once set up, customers will be able to add items to their sales basket and pay using a debit/credit card.
Over the phone card payments
While they may not be as common as other card payment methods, 'not present' or over the phone transactions are vital for businesses such as takeaway restaurants. This process consists of a customer sharing their credit card details over the phone, to which the retailer will enter the details into a payment terminal for small businesses. From here, the payment process is precisely the same; it's just initiated via a different method.
Card Payments Fees & Restrictions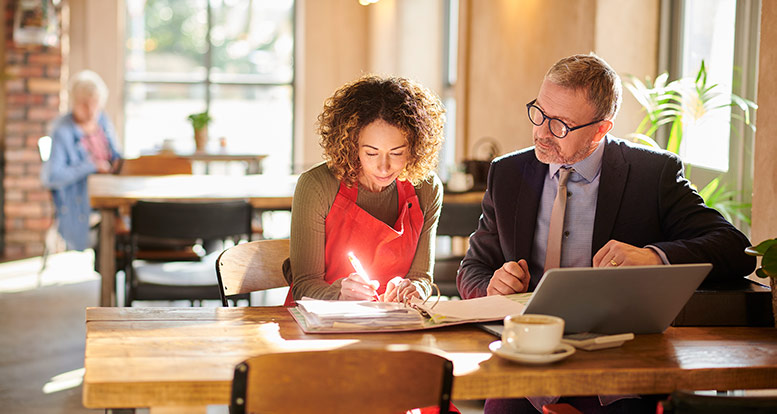 As there are several steps involved within the card processing process — such as fraud checks and cardholder verification — card processors charge fees for their services. Payment terminals conduct such measures as soon as the transaction occurs. So, is there an average or standard fee? No, there are usually no monthly costs for card payments. Instead, it's more common to be charged a fee per transaction, which will differ depending on the provider, card type, and payment method (e.g. fees may be more for methods such as over the phone, as there is more risk of fraud.).
Regarding restrictions such as a minimum or maximum payment cap, a minimum cost to use card terminals is much less common these days as it's an easy way to lose customers and discourage impulse buys. However, the previous maximum spend has recently increased from £45 to £100 for contactless card payments. There are mixed opinions about this, as it does pose more of a security risk if cards are misplaced or stolen. With that said, it does make the buyer's journey a lot more convenient when making more significant purchases — and that's definitely good news for businesses.
So, now that you know how to set up card payments for small businesses, it's time to get started! RSM2000 is a reputable and trusted payment services provider that works with businesses in many sectors, providing reliable and secure card payment services.
Get in touch today to discuss your requirements with our team and find out how we can help you!